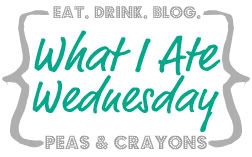 I've been seeing these blog posts all over the web, and love reading and seeing them. So, I've decided to start doing them as well. What I am talking about? Peas and Crayons' What I ate Wednesday. You can post and talk about food you've recently been eating. However, I need to start pulling out my good DSLR or at least my digital point and shoot though, as all the pics I've taken thus far of food I've made are via my cell phone camera (it's not the best). I'm going to improve upon that for next time. For my first WIAW post, I'm going to tell you about some of the highlights from my recent cooking/baking adventures.
Recently, I made my first-ever cake. Not only was it my first cake, but it was vegan and it was for my mom for Mother's Day. I was nervous about it, hoping it tasted good and that she liked it. Thankfully, it accomplished both of my hopes for it as Mom loved it. It wasn't as tall as it should have been since I didn't use (didn't own one at the time) a hand mixer, but other than that, it was a success. It was quite rich and filling!
I have been in love with my small collection (I currently have 6) of vegan cookbooks, yet prior to April, I had yet to really utilize them. Starting in April, I made sure I was making good use of the books. My favorite cookbook thus far being the Happy Herbivore cookbook which I have used the most. The recipes in it are fairly easy and list the nutritional information right with the recipe which is a plus in my mind. I've cooked Smokey Bean Enchiladas, Hippie Loaf, Tofu Scramble and a few others.
Also, I'm starting to experiment a bit more with my breakfast in the morning. Okay, so sort of. I have a love for oatmeal, so I'm still eating oatmeal, but I'm trying quick oats and steel cut oats with mix in fun like berries and chia seeds. I want to start changing things up more by having pancakes or waffles one day, but we'll see. 🙂
For next week, I'm going to document an entire day's worth of food and do it right. Should be fun!