Today is time for a little "catch-up" on the blog challenge. Since I started on December 13th, I have twelve days to make up for. That said, here we go, below you will find December 1st through 6th….
Trip. What was your best trip in 2009?
This is an easy one, my vacation up to New York this past September. I had such a great time in the city for the two days I spent in there (was on Long Island with family most of the week). I really enjoyed being in one of my favorite places in the USA. For the first time in my life, I spent a night in NYC. An awesome friend invited me to stay with her for a night and it was a great experience. One I will definitely remember for a very long time. Past trips to New York, I only was able to spend the day in the city, so being able to spend a night was definitely a highlight for me.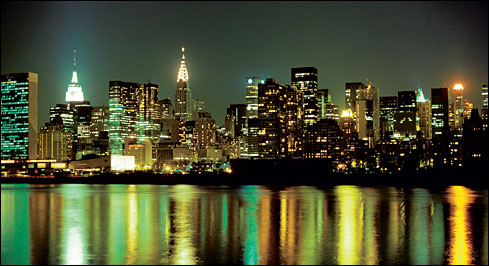 Restaurant moment. Share the best restaurant experience you had this year. Who was there? What made it amazing? What taste stands out in your mind?
I don't know if I had one experience that stands out above all others on this front. For the most part this year, I have eaten out solo, on my own. I did have a few times eating out with family and/or friends that enter my mind though. One would be lunch with my Aunt Kyle and cousin Kim when I was up in New York. We ate at this great Chinese restaurant in Hampton Bays which was nice. Good food and good conversation and time with family I don't see often. Another time would be eating at Pizza Fusion here in Orlando with my mom for the first time. Neither one of us had ever been there, so it was nice to experience somewhere for the first time with my mom. Another good food and good time moment that stands out in my mind. The final restaurant experience that was great in my mind is my first time eating out as a vegetarian at Dandelion Communitea Cafe. I went to the cafe after work one Saturday afternoon solo and was recommended a special wrap the restuarant makes. I fell in love with the Dandelion and their food during that lunch. The wrap was so full of flavor and goodness and the atmosphere there is like no other.
Article. What's an article that you read that blew you away? That you shared with all your friends. That you Delicious'd and reference throughout the year.
On this one, I can't say it was just one article. I was blown away by articles I read during my researching about veganism and how the animals were really treated. The facts surrounding the treatment and conditions that these animals lived with and under stunned me. I couldn't believe some of the things I was reading. Further, my thinking that so-called "free-range" was good, became a mute point once I educated myself on the subject. Once I read these facts through the articles, I wanted to not only share my newfound knowledge with friends and family, but with the world. There is nothing like the truth hitting you smack dab in the face to make you change your life.
Book. What book – fiction or non – touched you? Where were you when you read it? Have you bought and given away multiple copies?
Jillian Michaels' Master Your Metabolism. As soon as I heard about Jillian's new book, I immediately pre-ordered it online. I knew that it was going to be a great read. And, as soon as I had it in my hands and was reading it's contents, I knew I was right. Jillian is not only an amazing trainer on the TV reality series, "The Biggest Loser," but she is an inspiration to me and millions of other people. I listened to her weekly radio talk show until it ended this year with eager ears and a yearning to learn from someone I respected in the health and fitness arena. I read the book cover to cover within a little over a week and once I was done, I told anyone who would listen that they needed to also pick up the book. To this day, I still tell anyone looking for a good book on the topic of health to get her book.
Night out. Did you have a night out with friends or a loved one that rocked your world? Who was there? What was the highlight of the night?
The only nights out that I have had in the recent past are those I spent with my friends back in Asheville. Of course, those nights were in 2008. I had a blast going to the movies at the Asheville Pizza & Brewery Company with the Asheville crew when I lived up in Western North Carolina last year. Nothing I have experienced in 2009 has topped that in my mind. Fourth of July 2008 is also a fond memory for me, great BBQ and walking to see the fireworks with great friends. There is nothing better in the world than spending a day with close friends. Ok, so maybe spending a day with family, so spending time with family and/or close friends makes the best times. 🙂
Workshop or conference. Was there a conference or workshop you attended that was especially beneficial? Where was it? What did you learn?
During 2009, I did not attend any workshops or conferences. I did however attend a couple of comic book conventions as a creator. Both Megacon and the FX Show were comic book conventions I appeared at during the year. The one show that stands out for me is Megacon. Not only was it my first comic book convention back in Florida since moving, but I got to see good friends. Two of my friends, Derrick and Suji and myself took pictures with a Delorean replica from the movie trilogy Back to the Future. It was an experience that lasted less than ten minutes, but one I enjoyed and that will live with me for a long time to come.